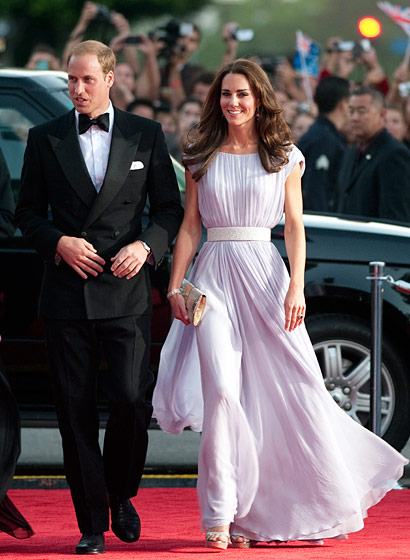 In today's Style section of the New York Times, there is
an article about Catherine, Duchess of Cambridge by Eric Wilson
and her wardrobe seen on her and Prince William's North American trip. Besides going over her highlight wardrobe choices, and how her wardrobe choices sell out almost instantly (and how some of those wardrobe choices are quite affordable), the question was raised whether or not Catherine is a fashion or style icon.
I had to stop and think for a bit, about what either of those terms even meant. Since the article made mention of Amy Odell, editor of
The Cut,
and how she considers Lady Gaga and Willow Smith "fashion icons", it gave me insight in defining the terms.
So I figured: a fashion icon is one that wears fashions, whether it be a runway look, trend, or for shock and awe (ala Lady Gaga) whereas a style icon is more about the individual and "them wearing the clothes, and not the clothes wearing them". Their fashion choices are personal ones, wether it be current or not.
Whether Catherine is a fashion icon or style icon, I do think she is a great example to women when it comes to dressing and personal style. Here are some examples of what one can learn from the Duchess:
She dresses appropriately: Some say her style is "too conservative" or "Talbot's". However, she is a woman with a title and position that requires a sense of refinement and class. Running around town looking like Paris Hilton on a good day, is just not an option. When so many people I see can't even dress appropriately for a job interview, let alone the work place (oh, the things I have seen), I think Catherine gives great examples of what women can wear to look stylish and put together in the workplace
She knows when and how to take a risk: I'd like to see all of those naysayers that say the Duchess doesn't take risks, work a fascinator the way she does or a white dress. Definitely not for the faint of heart.
She repeats pieces: Catherine was seen wearing dresses she has worn in the past as well as articles of clothing (like her Goldsign jeans) repeatedly. Because that's what people do when they go on a long haul trip/in their everyday life.
She's a savvy shopper: She has got the high-low mix down pat, and wears affordable pieces by home country designers, further proving the point that high price tags doesn't equate style. In addition, Catherine is doing a great job of stimulating the home economy, since even the common folk can easily afford to go out and purchase the same items.
She knows that it's okay to splurge a little every now and then: A classic Diane Von Furstenebrg dress? Check. A fabulous gown for an evening out? Check (OK it was probably borrowed, but you get what I mean.) When the occasion calls for it, splurging on a timeless article of clothing, or a piece that will make that big night just perfect is in fact OK!
So what do you think? Is Catherine a fashion or style icon? Do you have your own definition of the two terms?